"The ponies pulled splendidly to-day, as also the dogs, but we have decided to load42 both lightly from now on, to march them easily, and to keep as much life as possible in them. There is much to be learnt as to their powers of performance. ... all the party is cheerful, there never were a better set of people. ... The dogs are doing excellently -- getting into better condition every day."43
Just getting the animals to the Antarctic was the initial challenge. Aboard the Terra Nova which brought Scott and his group from New Zealand, there were 33 dogs chained to stanchions and bolts between the many other things needed for the journey, lashed here and there all over the upper deck. And stored somewhere below, 5 tons of dog biscuits. As for pony food: 50 tons, consisting of hay, bran, crushed oats and oil-cake (compressed seeds left after pressing out so much of the oil as can be extracted).

The first real try at working the ponies and dogs hard was when 12 men (including Scott) set out on January 25th, 1911, directly south. Eight ponies and 26 dogs were harnessed-up and travelled miles hauling great quantities in order to set up a major depot of food and supplies (One Ton Depot). This depôt, to quote Cherry, "was just a cairn of snow in which were buried food and oil, and over which a flag waved on a bamboo. There is no land visible from One Ton except on a very clear day and it is 130 geographical miles from Hut Point."

At one point when the party was setting up the first of many camps, and just after being blizzard-stayed for a couple of days, Scott wrote, the ponies "cannot stand more blizzards in their present state. I'm afraid we shall not get very far, but at all hazards we must keep the greater number of the ponies alive. The dogs are in fine form -- the blizzard has only been a pleasant rest for them." At another point in his journal, Scott wrote, "The way in which they [dogs] keep up a steady jog trot for hour after hour is wonderful. Their legs seem steel springs, fatigue unknown -- for at the end of a tiring march any unusual incident will arouse them to full vigour." At another time Scott wrote, "they trotted steadily with a wonderfully tireless rhythm."

In respect to Scott's comment on the dogs in a blzzard, as being "a pleasant rest for them." This is what Cherry wrote: "These fairly warm blizzards were only a rest for them. Snugly curled up in a hole in the snow they allowed themselves to be drifted over. Bieleglas and Vaida, two half brothers who pulled side by side, always insisted upon sharing one hole, and for greater warmth one would lie on the top of the other. At intervals of two hours or so they fraternally changed places."

The dogs and the ponies did not set out together and followed along in the tracks left by the advance men leading their ponies. If they timed it right, and usually they did, the dogs come charging into the new camp just after the lead group had arrived. The main reason was that the dogs, though they could not haul as much, were very much faster. Another reason is that the dogs would attack the ponies with the least bit of an excuse.44 In setting up the "One Ton Depot," Scott and his men spent 23 days getting to a point south, 130 miles away. The eight ponies, at the end of it, were tuckered-out, indeed, three had to be sent back before they had reached the position at which they built the "One Ton Depot."45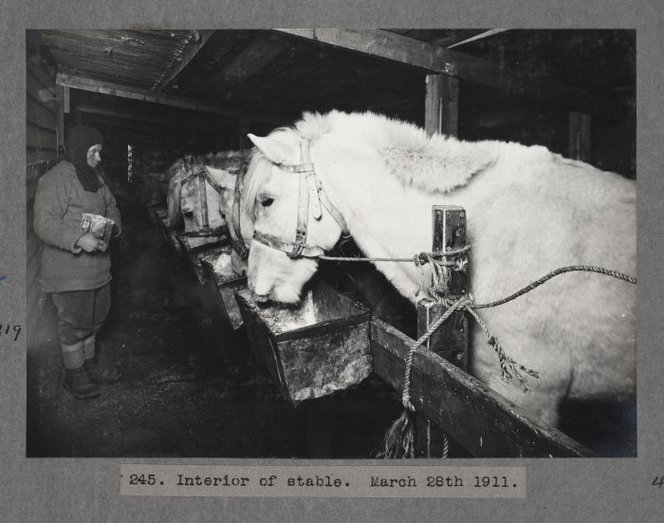 Incidentally, after their 260 mile journey, out and back from the "One Ton Depot," there were, out of the seventeen landed, but ten ponies left. These ten wintered over with the men in the stables built for them at Cape Evans.
Scott, in his journal, described quite a number of incidents involving the ponies; most of them quite humorous. For Example:
"Another accident! At one o'clock 'Snatcher,' one of the three ponies laying the depot, arrived with single trace and dangling sledge in a welter of sweat. Forty minutes after P.O. Evans, his driver, came in almost as hot; simultaneously Wilson arrived with Nobby and a tale of events not complete. He said that after the loads were removed Bowers had been holding the three ponies, who appeared to be quiet; suddenly one had tossed his head and all three had stampeded -- Snatcher making for home, Nobby for the Western Mountains, Victor, with Bowers still hanging to him, in an indefinite direction. Running for two miles, he eventually rounded up Nobby west of Tent Island and brought him in. Half an hour after Wilson's return, Bowers came in with Victor distressed, bleeding at the nose, from which a considerable fragment hung semi-detached. Bowers himself was covered with blood and supplied the missing link -- the cause of the incident. It appears that the ponies were fairly quiet when Victor tossed his head and caught his nostril in the trace hook on the hame of Snatcher's harness. The hook tore skin and flesh and of course the animal got out of hand. Bowers hung to him, but couldn't possibly keep hold of the other two as well. Victor had bled a good deal, and the blood congealing on the detached skin not only gave the wound a dismal appearance but greatly increased its irritation. I don't know how Bowers managed to hang on to the frightened animal; I don't believe anyone else would have done so. On the way back the dangling weight on the poor creature's nose would get on the swing and make him increasingly restive; it was necessary to stop him repeatedly. Since his return the piece of skin has been snipped off and proves the wound not so serious as it looked. The animal is still trembling, but quite on his feed, which is a good sign. I don't know why our Sundays should always bring these excitements."
Scott, being Scott, followed along in his narrative:
"Two lessons arise. Firstly, however quiet the animals appear, they must not be left by their drivers; no chance must be taken; secondly, the hooks on the hames of the harness must be altered in shape.
I suppose such incidents as this were to be expected, one cannot have ponies very fresh and vigorous and expect them to behave like lambs, but I shall be glad when we are off and can know more definitely what resources we can count on."
Another humorous example that concerned the ponies was written up in Scott's journal, dated July 31st, 1911:
"The ponies are getting buckish. Chinaman squeals and kicks in the stable, Nobby kicks without squealing, but with even more purpose -- last night he knocked down a part of his stall. The noise of these animals is rather trying at night -- one imagines all sorts of dreadful things happening, but when the watchman visits the stables its occupants blink at him with a sleepy air as though the disturbance could not possibly have been there!"
As the winter closed in, on May 8th, Scott wondered and discussed with his men his ideas as to how best to get the pole. "I gave an outline of my plans for next season ... Everyone was interested naturally. I could not but hint that in my opinion the problem of reaching the Pole can best be solved by relying on the ponies and man haulage. With this sentiment the whole company appeared to be in sympathy. Everyone seems to distrust the dogs when it comes to glacier and summit."

NEXT

Or, GO TO
TABLE OF CONTENTS

Found this material Helpful?

Peter Landry
2013