18 - "Atkinson's Search Party" (November, 1912)

We might go into detail, in regards the extreme efforts the men at home base took to get out to rescue the polar team under Scott, however, I am limited in time. (There are many very interesting sub-stories in respect to this expedition.) For starters, these men, except for a couple, were beat out. Two or three tries were made once it had settled into their minds, that their brethren were in trouble, somewhere -- out in the great white and barren landscape of the Ross Shelf, an area as large as France. After days of desperate tries; they gave up and settled into their hut for another winter. Atkinson and 10 men stayed over at Cape Evans to spend another winter with the intention that, with the better weather, they would set-out to discover what happened.

On 29 October, 1912, 8 men59, leading 6 mules60 set out. The next day Atkinson, Cherry and Dimitri followed with two dog teams (the dogs were faster than the mules).
"On the morning of November 12th they found Scott's tent, covered with snow and appeared like a cairn. Atkinson went in first and saw three men in their sleeping bags. He recognized Scott in the middle, but the other two had their faces covered with their sleeping bags. After taking the diaries, letters and other documents, Atkinson read through them and informed the men what had happened."61
Wright, the Canadian, described what he saw when he pulled the flap aside, -- there were the three of them in their sleeping bags. On the left was Wilson, his hands crossed on his chest; on the right, Bowers, wrapped in his bag. It appeared that both had died peacefully in their sleep. But Scott was lying half out of his bag with one arm stretched towards Wilson. Tryggve Gran said, "It was a horrid sight. It was clear he had had very hard last minutes. His skin was yellow, frostbites all over." Gran62 envied them. "They died having done something great ... Petty Officer Williamson said, "His face was very pinched and his hands, I should say, had been terribly frostbitten ... Never again in my life do I want to behold the sight we have just seen." At the age of 43, it would appear, that Scott was the last to die.
There are different versions as to what position the bodies were in when found. For incidence, the commentary in the published version of Scott's Journal, there is this:
"Wilson and Bowers were found in the attitude of sleep, their sleeping-bags closed over their heads as they would naturally close them.
Scott died later. He had thrown back the flaps of his sleeping-bag and opened his coat. The little wallet containing the three notebooks was under his shoulders and his arm flung across Wilson. So they were found eight months later."63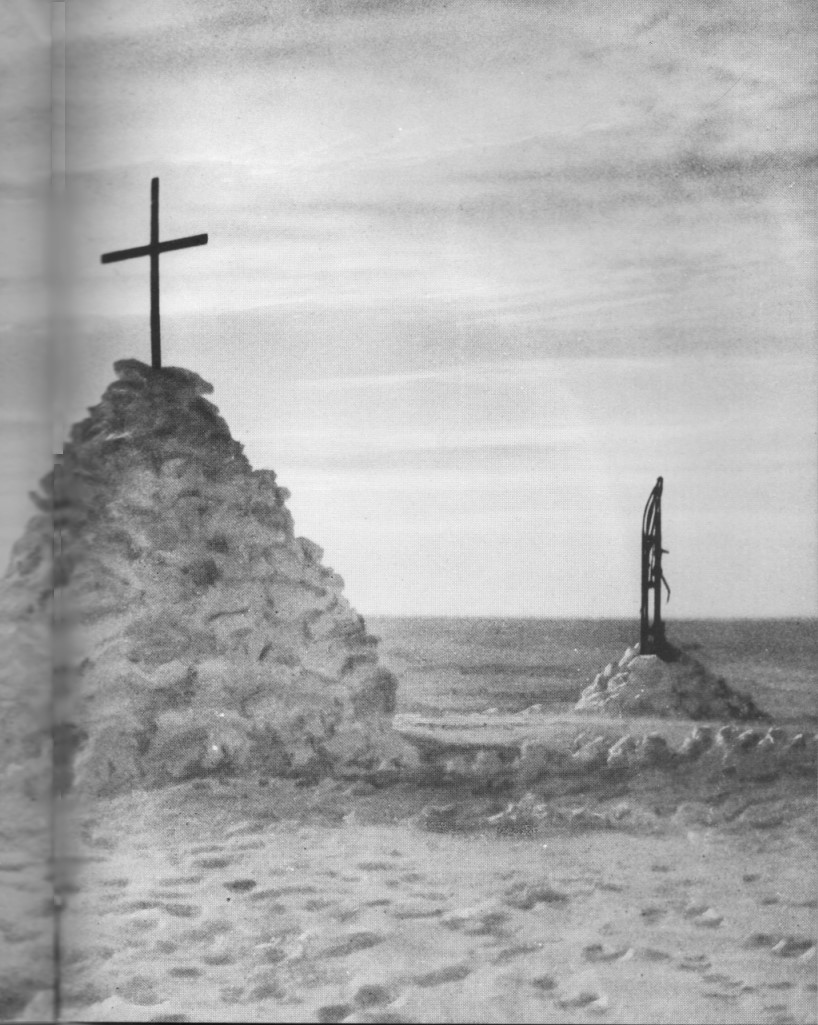 With the diaries in the tent, were found ... letters: Mrs. E. A. Wilson (Wilson's wife, set out in the short biographical sketch on Wilson); To Mrs. Bowers (Bowers' mother, set out, in the sketch on Bowers); To Sir J. M. Barrie64; To Sir Edgar Speyer65; To Admiral, Sir Francis Charles Bridgeman66; To Admiral Sir George Le Clerc Egerton67; To Mr. J.J. Kinsey, Christchurch68; to his Mother; to his Wife69; his Brother-in-law (Sir William Ellison Macartney70); Admiral Sir Lewis Beaumont71; and Mr. and Mrs. Reginald Smith. Further, Scott left a Message to the Public.
As mentioned, Atkinson took charge of the diaries and letters and informed the others in his party what had happened and read aloud the account of Oates' death and the Message to the Public. He then read the Burial Service and a chapter from Corinthians after which all the men gathered and sang Scott's favorite hymn, "Onward Christian Soldiers." The tent was then collapsed over the bodies and a snow cairn was built over all. Placed on top was a pair of crossed skis. Here they would lie until one day, drifting with the Barrier, they would find their final resting place in the sea.
"All this only a day's march from plenty.... We buried them this morning, a solemn undertaking. How strange it was to see men bareheaded whilst the wind blew with the thermometer at -20 degrees. We are now going to look for 'Soldier' [Oates] and then return to look for Campbell [he and others made a separate trip, west; he returned after being missing for months; see Campbell]. I must say our Expedition is not given much luck ... the sun is shining beautifully in this place of death: over the Bluff this morning stood a distinct cross in clouds."72
Then Atkinson led the search party back along the path believed taken by Scott in hopes of finding