"The tents and bedclothes were frozen, and even our garments were stiffened by frost and exposure to the keen wind ... We had no means of making a fire, the moss, at all times difficult to kindle, being covered by the ice and snow. ... We commenced our cheerless march ... The ground was covered with snow a foot in depth, and we had to pass across swamps and marshy places, sometimes stepping up to the knee in water ... The men who carried the canoes had a most laborious task."20
On occasion they were able to catch game, in between times their diet was very lean; most times they were on the brink of starvation. On the 26th of September they reached the banks of the Coppermine River, and then to Point Lake. The men beyond this point started to drop off. The stronger men (Franklin among them) determined to carry on. The idea was that once they got to Fort Enterprise supplies would be had and they could then trek back to save their exhausted friends. On October 11th Franklin's group finally made it to Fort Enterprise -- but the place was empty, and no food had been laid in! They had left the place on June 14th, but four months previously. Certain of their Indian friends, who would not go any further, agreed to do some hunting and lay in food for the men when they returned. The Indians simply left the place to return to their home territory and did not deliver on their promises.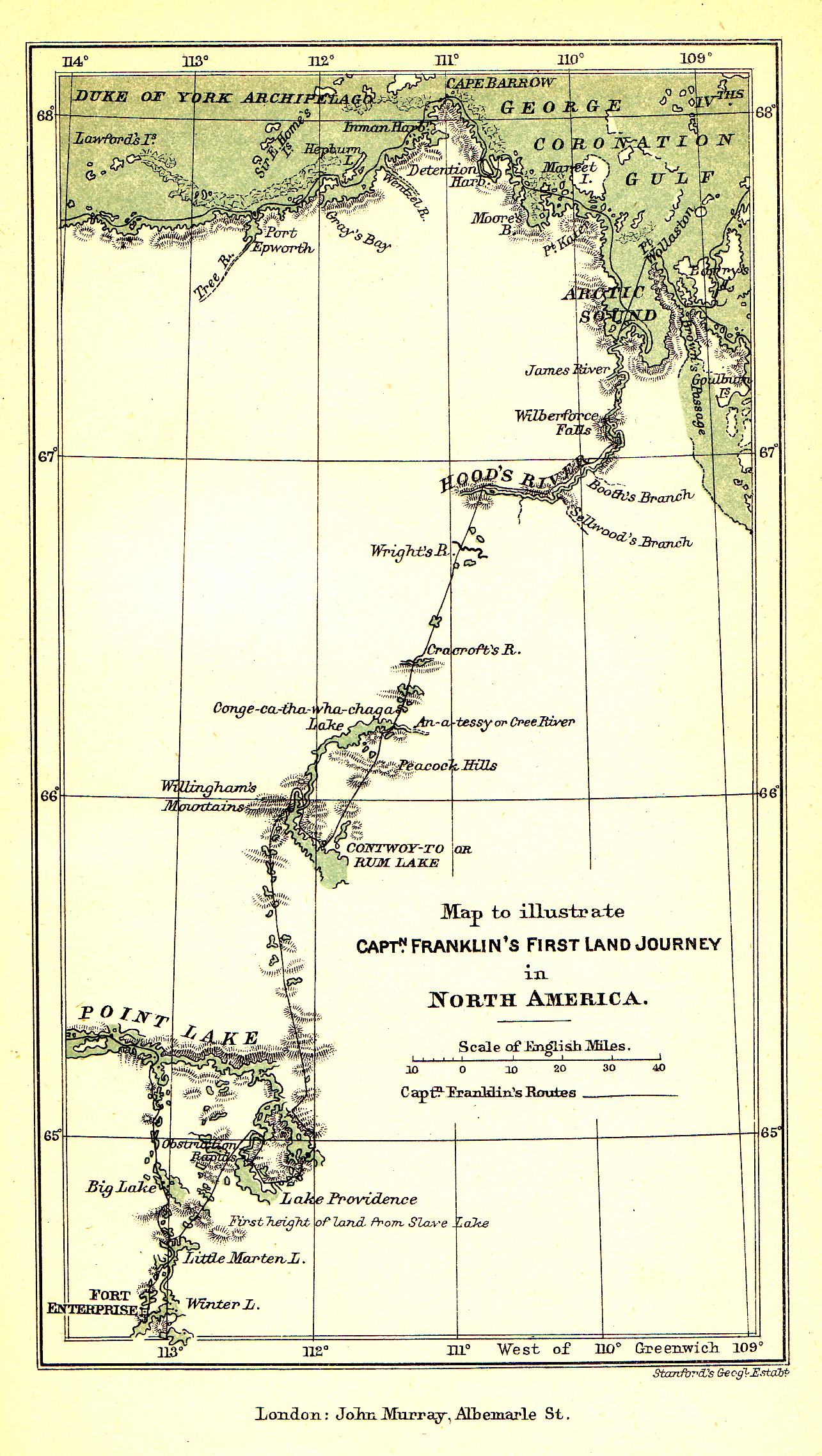 The men that could go no further and who had dropped off were Richardson, Hood and Hepburn. George Back, who had been sent ahead to be met up with at Fort Enterprise, was not at Fort Enterprise when Franklin got there; nothing but a note that Back had arrived but set out once again to see what became of the Indians that were to supply the fort. Franklin took a few days to compose himself at Fort Enterprise. He had determined to go back for his companions even if he could not bring them much in the way of food. Then, suddenly there arrived, in a sad state: Richardson and Hepburn. The tale was then told on how Robert Hood had been murdered (so they thought) by an Iroquois that had been with the party, and that Hepburn on conferring with Richardson, fearing they would be next, took the Indian by surprise and shot him through the head.
So, here we have, at Fort Enterprise, in the Autumn of 1821: Franklin, Richardson and Hepburn, together with two French voyageurs. The balance of October passed, the deary month of November started in. In the meantime, the two French voyageurs died. The three British officers knew they would soon be gone, as well. Then, on November 7th this entry was made in Franklin's Journal.
"Praise be unto the Lord! We were this day rejoiced by the appearance of Indians with supplies."21
Their rescue was due to George Back. I quote Traill, Franklin's biographer:
"His sufferings since he separated from the party on October 4 had been no less severe than theirs. For days together he and the three men with him had supported life 'on an old pair of leather trousers, a gun cover, and a pair of old shoes, with a little tripe de roche that they succeeded scraping off the rocks."22
George Back, quite miraculously, discovered the very Indian tribe thereabouts which had assisted Franklin's group when they first came in. Those who remained of the Franklin party were revived in a matter of days (the native Indians were very attentive to them); such that, on November 16th they were on the move again. Let me turn to Traill:
"... on the 11th of [December] ... they reached Fort Providence. Hence, after resting a few days, they went on to Moose Deer Island, where they passed the remainder of the winter. On May 26, 1822, they started homeward, and, reaching York Factory about the middle of July, took ship for England, where they arrived in October, after an absence of three years and a half and journeying by land and water of more than 5,500."23
Well, as one might image, the public made Franklin out as a hero; for the Admiralty, he was a marked man. Traill:
"Very shortly after their arrival, Franklin, who had in his absence been promoted to the rank of commander, was advanced to that of post-captain, and was about the same time unanimously elected a Fellow of the Royal Society, in recognition of his services to the cause of geographical science. ...
... he had became a conspicuous figure in London society, a welcome guest at many dinner-tables, an object of interest and admiration in many drawing-rooms. As for Franklin he was in little danger of all of this going to his head not only by his modesty, but also by his ambition ... [as he had] an ardent desire to add greater exploits to their number."24