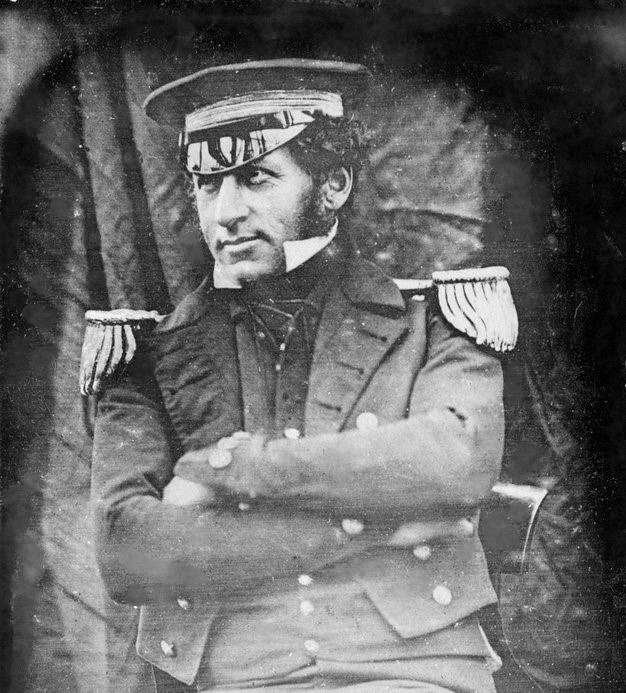 Lieutenant Gore was on the Erebus (under Franklin and Fitzejames). He was a signatory to the original note which had been left in a cairn, found a few years after the loss of Franklin and his men.
"... from the Victory Point note we know that in June 1847 he was alive and well, leading a land exploration party south down the coast of King William Island, yet by April 1848 he had died, with Fitzjames then referring to him as 'the late Commander Gore'."1
The Gores were a family made up of a number officers, commissioned in the British Royal Navy. Graham Gore's grandfather was with Cook during his first and third voyages to the Pacific. During Cook's Third Voyage, Cook died, and thereafter, with the death of the second most senior officer, Captain Clerke, Gore, Sr., assumed command of the whole of the expedition and brought both the Discovery and Resolution safely back to England.

Our subject's father, named John, had a naval career, though less distinguished than that of his father (the John Gore who had been with Cook). It seems that this John Gore (Graham's father), met Francis Crozier. Marrying in 1806, our hero's parents, John and Sarah (nee Gilmore), had six children the oldest of which was, should we be surprised: John. I am not sure where Graham fitted in. Incidently, John joined the navy. As for Graham, he joined his father's ship (Dotterel) at the tender age of only 11 years. His father wrote the Admiralty requesting permission "to enter my son Graham Gore, age 11 years, educated by myself and Mr. Bridge, Schoolmaster of Barnstaple." Though concerned the boy was too young, permission was granted. Graham likely continued to live at home, "until he followed his elder brother [John] to the Royal Naval College in 1822.2

Graham was eventually entered into the records as a Midshipman, and continued as such until August of 1828 during which time he experienced a sea battle of the big square riggers, the last of them, the Battle of Navarino (1827). In 1829, Graham was made a lieutenant. Details of his career thereafter are a bit sketchy; his folks and certain of his siblings, during this period, did immigrate to Australia. What we know, is, in 1836, Graham Gore signed on to the Terror, with George Back her captain. "The Terror made a hair-raising voyage to the Arctic from June 1836 to August 1837, which was plagued by bad luck, bad weather conditions and ill-health." The Terror barely made it back across the Atlantic, in fact she was beached on the western shores of Ireland. Graham got through it all and was appointed to other ships which carried him across the Pacific to join in on the first Opium War in China; and from there to explore the coasts of Austrailia.

In 1845, that fateful year, Graham Gore joined Erebus.
_______________________________
[TOP]
NOTES

1 Much of the information on Graham Gore, herein, came from William Battersby's article: < http://franklinexpedition.blogspot.ca/2010/11/updated-biography-of-late-commander.html >

2 John did reach the rank of Lieutenant, but was later drowned at sea.